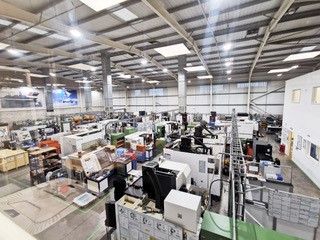 In Summary
General
|
19th January 2021
AE Aerospace, a leading manufacturing business in Birmingham, will be the first UK SME (small to medium sized enterprise) to use a 5G private network
In Detail
A West Midlands manufacturer is to become the first smaller sized business to use a 5G private network to boost productivity.
AE Aerospace, a leading manufacturing business in Birmingham, will be the first UK SME (small to medium sized enterprise) to use a 5G private network and will work together with WM5G, W5G and its technology partner BT, on three new 5G use cases.
WM5G Limited is a multi-million-pound programme that both the West Midlands Combined Authority (WMCA) and the government have set-up to develop the UK's first region-wide 5G testbed. The Department for Digital, Culture, Media and Sport (DCMS) expects to invest over £20m in this programme, in addition to substantial West Midlands public sector and private investment (October 2018 to March 2022).
AE Aerospace operates a high precision engineering facility and produces parts for high-profile customers, including Rolls Royce, Raytheon UK and Moog. AE Aerospace has an ambitious growth strategy and believes that all three 5G-enabled trials delivered via this project will not only improve productivity but provide existing clients with a better quality of service, as well as creating new business models and new revenue opportunities.
In trialling 5G, powered by BT's world class EE mobile network, the aerospace manufacturer hopes to attain significant benefits, including the ability to maximise machine time, provide more accurate assurance that parts have been machined to specification with increased speed and efficiency, as well as being able to eliminate the need to re-work or replace damaged components impaired in transit. Through these trials, AE Aerospace aspire to set a precedent to bring the SME aerospace sector forward and into line in terms of 'on time, in full' delivery.
Manufacturing is a critical sector for the UK economy and the Midlands is the heartland of UK industry. Manufacturing in the Midlands generates more than £32 billion GVA a-year and accounts for 22% of jobs. Despite the prevalence of large manufacturers in the Midlands, most of the value of the output in Manufacturing comes from the SME businesses which make up these organisations' supply chains.
Andy Street, the Mayor of the West Midlands, said: "Manufacturing is the bedrock of the West Midlands economy and the ability to harness the power of 5G and other new technologies will help our manufacturers to not only remain competitive in a fierce global marketplace but put themselves at the cutting edge.
"We face a massive challenge to get our economy back on track once this pandemic is finally over and we must capitalise on new technology to supercharge that recovery. By winning the Government competition to become the UK's first large-scale 5G testbed, our region and it's businesses are in a unique position to test and prove the opportunity for 5G to transform manufacturing productivity."
The Covid-19 pandemic has greatly disrupted the manufacturing sector. New Industry 4.0 technologies – including 5G – have the potential to power recovery by transforming manufacturing productivity. 5G enables productivity improvements by connecting sensors on machines securely and in real-time to data platforms and applications to optimise processes and equipment.
Recognising the criticality of the manufacturing sector, a group of leading 5G businesses have come together to co-invest in these pioneering trials. WM5G is the UK's first region-wide 5G innovation company and forms part of the Department for Digital, Culture, Media and Sports (DCMS), 5G Tests and Trials programme. These trials are the first projects in WM5G's Manufacturing testbed.
WM5G will be supporting these trials working closely with W5G and its strategic technology partner BT, to integrate the technology infrastructure required to deliver these unique 5G trials. As part of the project, BT's 5G connectivity will deliver the high reliability, high capacity and fast response times needed to support the Private Network deployment and 5G use case trials.