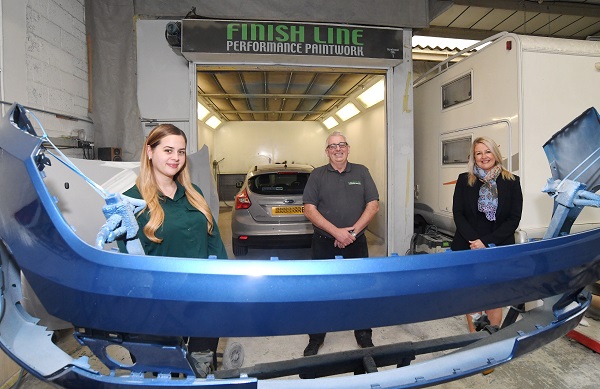 In Summary
General
|
8th October 2020
A specialist automotive business is moving to new premises in Coventry this year after receiving financial support during Covid-19.
In Detail
Finish Line Performance Paintwork, which was established in 2003, currently leases a unit in Kingfield Road, Foleshill, for its car and motorcycle body work repair and paint work. But, like many businesses, owner Paul Sheehan needed extra financial support when the Coronavirus pandemic led to the national lockdown.
He contacted Justine Chadwick at the Coventry and Warwickshire Local Enterprise Partnership (CWLEP) Growth Hub who, as well as giving advice, put Paul in touch with Leah Blocksidge at the Coventry and Warwickshire Reinvestment Trust (CWRT).
Together they completed an application form for the Government's Coronavirus Business Interruption Loan Scheme (CBILS) and he secured £51,000.
After being able to keep Finish Line Performance Paintwork afloat, Paul was dealt further bad news when he found out his lease would not be renewed. But, with the help and encouragement of the Growth Hub and CWRT, Paul has found new premises in Birmingham Road, Allesley, which will be his business's new home from December.
He said: "When Covid hit, businesses and motorists were no longer able to bring in their cars for repair since it wasn't classed as an essential journey so receiving the CBILS loan as well as the business rates holiday meant I was able to keep the business going.
"When I then found out we needed to find new premises, I thought it was the killer blow but with the encouragement and positivity shown by the Growth Hub and CWRT, I have agreed a lease on a new unit which will reduce my overheads considerably and has already provided me with a long-term contract to paint Triumph and Velocette motorcycle parts that they export all over the world.
"I am also investing in new equipment which will greatly reduce my carbon footprint and save on fossil fuels. Part of the system allows every car in the workshop to be mounted on sleds that allow each car to be moved easily and even spin on its own axis. It removes the need to turn the engine on whilst the car is in the workshop.
"I currently use contract staff, but I am now hoping to take on full-time employees so the long-term future is looking much more positive.
"We have built a good reputation over the last 17 years with companies such as The Velocette Motorcycle Company, Maclaren Cars and many others but a large proportion of my business is through referrals and repeat customers.
"Most businesses at this time need a helping hand and mine came from the Growth Hub and CWRT who have been fantastic.
"I must also mention Katy Bookkeeping, a XERO accounting specialist, who have done an amazing job at getting all of my accounts and records in order, which allows me to concentrate on more productive issues."
Justine Chadwick, account manager at the CWLEP Growth Hub, said: "Covid-19 led to a drastic fall in turnover at Finish Line Performance Paintwork but, like many SME owners, Paul worked really hard to find alternative sources of funding.
"The Growth Hub has been providing updated information on the various loans and grants the Government has introduced during this tough time to Coventry and Warwickshire businesses of all sizes and in all sectors.
"It is great that with the CBILS keeping the business going, that the work load of the firm has now almost returned to normal and that they are looking forward to moving to new premises which will take the business to the next level."
Leah Blocksidge, head of programmes at CWRT, added: "Paul is a very dedicated business owner, and this is shown through his tenacious drive through the pandemic. We had many conversations to help us understand the position of the company and how to put together a plan to assist the company in moving forward and overcome any issues.
"It is with great pleasure that CWRT has been able to assist Finish Line Performance Paintwork with a CBILS loan, along with many other Coventry and Warwickshire businesses, to enable them to grow and seek new business opportunities during the pandemic. We are really looking forward to seeing how Paul and his team develops over the coming months.''
If you need any similar business support, please contact the Growth Hub HERE >
Photo (l-r): Leah Blocksidge (CWRT), Paul Sheehan (Finish Line Performance Paintwork) and Justine Chadwick (CWLEP Growth Hub)