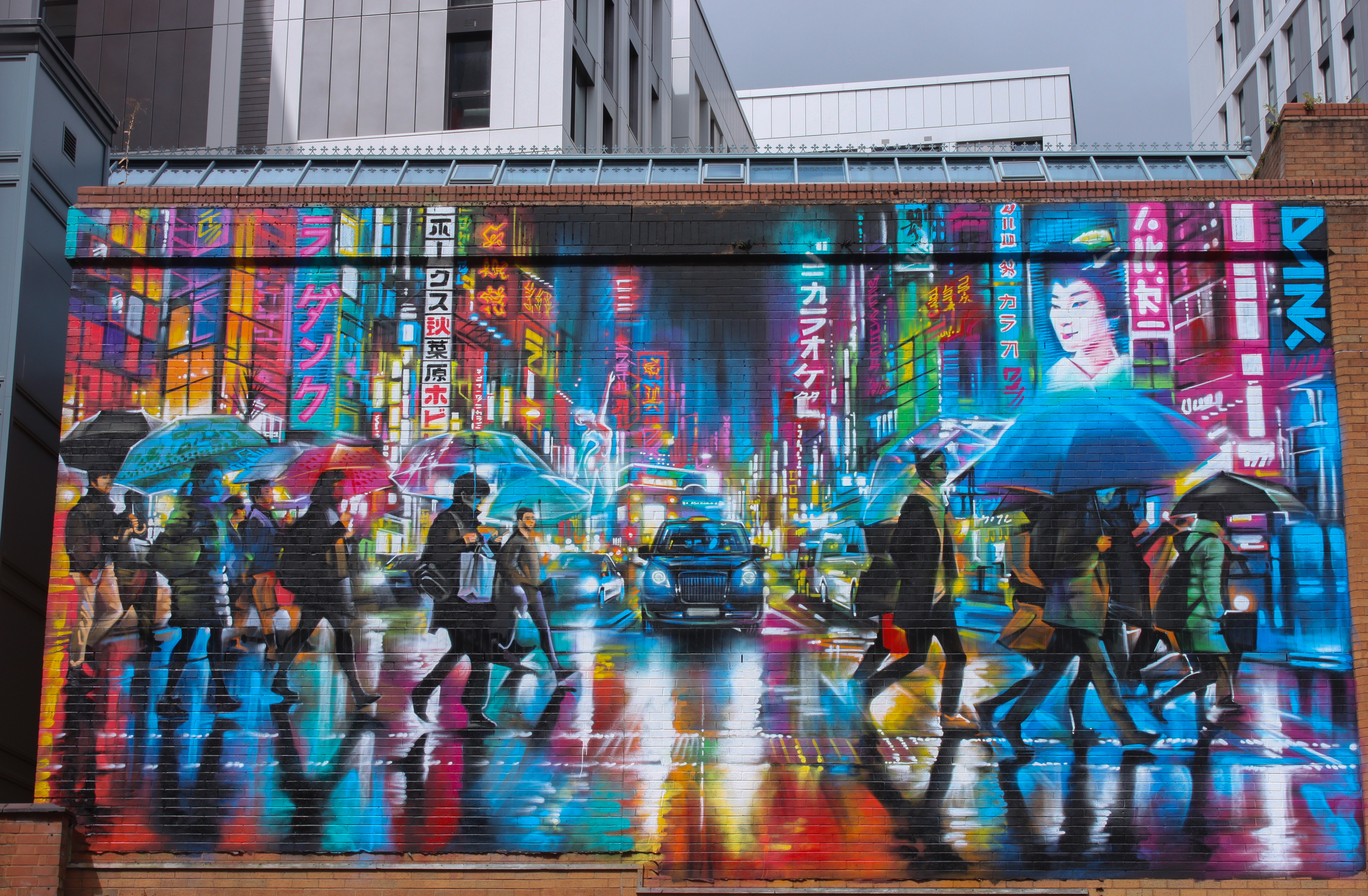 In Summary
General
|
17th August 2021
New commissions by Nomad Clan and Dan Kitchener join previous work by Roots, Dreph and David Speed as part of Coventry City UK of Culture's In Paint We Trust mural programme.
In Detail
Two new commissions have been revealed as part of Coventry City of Culture's In Paint We Trust series. In Paint We Trust, led by Street Art Strategy in partnership with Coventry City of Culture Trust and Coventry BID, commissions street and multi-disciplinary artists to create murals in unique spaces across the city. Inspired by local history and culture, these murals in everyday spaces are designed to spark important conversation by reflecting on Coventry's history and future.
Internationally-acclaimed Manchester based duo Nomad Clan have been commissioned to create Coventry & Warwickshire's largest mural at New Union Street car park. Tasked with creating a tower of tales that represents the city's past, present and future, Nomad Clan drew inspiration from Coventry's watchmaking history. The stars and nebulae surrounding the clock face are a nod to Coventry's first watch and clock maker Samuel Watson, who created time pieces for Isaac Newton. The flames were added in reference to the current climate crisis, and the increasing time pressure to take action. The collective, Cbloxx and AYLO, create artwork in public spaces that celebrates local history and comments on social and community issues. Using bold designs on large scales, their murals to create impact as stand out features against the local scenery. Their artwork has been featured in locations across the world, from Sweden to Flint Michigan and Mexico.

"Coventry's role in helping shape the world cannot be overlooked, its history is as unique as its vibrancy which serves as a mecca for a thriving multicultural society."
Renowned street artist Dan Kitchener has created Electric Future which lives on Well Street. The epic mural features the iconic London taxi, which is made in Coventry, set against a neon filled Japanese streetscape highlighting the car's iconic international appeal. Heavily inspired by his travels to Japan, Dan uses influences from across the world to create unique designs that often feature bright and luminous colours.
Also joining In Paint We Trust later this month is a mural by artist Carleen De Sözer. Working with Coventry Caribbean Association, Carleen will be creating a mural that represents their heritage and legacy in the community. Opened in 1983, the Coventry Caribbean centre, previously known as The Coventry West Indian Centre, became an important space where members of the Caribbean community could come together to problem solve issues the community was facing and celebrate their heritage. Carleen De Sözer is a Birmingham born artist known for her Afrocentric, and Afrofuturistic murals. An incredibly skilled aerosol and airbrush artist, Carleen's mission is to cultivate a culture that welcomes more black and female artists into the street art fold across the world.
Adrian Woolford, Assistant BID Manager from Coventry BID said: "The City of Culture Trust, In Paint We Trust project is the perfect fit for Coventry BID as it brightens up the walls of the city centre and creates galleries on the streets for all that are visiting.
"The diversity in the work that has been produced so far for the project is fantastic, with the latest installations helping to again focus on Coventry and its rich history and heritage. The New Union Street, Nomad Clan piece is striking and intricate in equal measures, but it isn't until you stand back and admire the sheer scale of the work that you realise how impressive the artwork is.
"Having witnessed the amazing and vibrant work of Dan Kitchener first hand in Belfast never did I think I would be part of a team bringing his fantastic art to my home town, and to incorporate a Coventry Taxi tops it off."