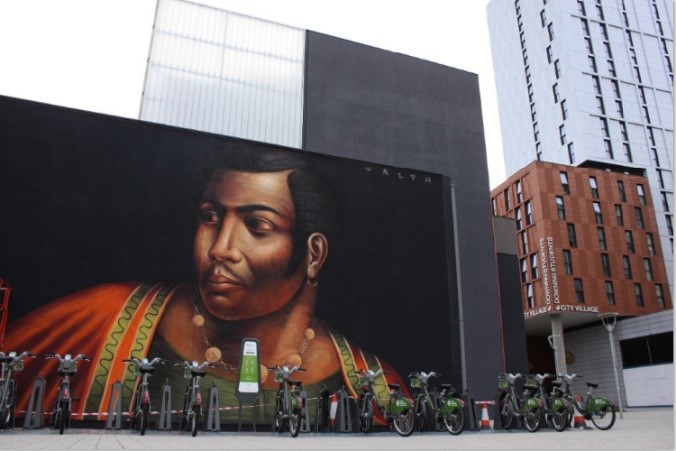 In Summary
The latest piece of street art for the 'In Paint We Trust' project has been revealed this week at the Belgrade Theatre and is one of both local and historical significance to Coventry.
In Detail
Situated on a prominent wall at Belgrade Theatre overlooking the water fountain, this spectacular piece of street art has been chosen and painted by the nationally recognised, visual artist, Dreph (Neequaye Dsane), who specialises in large scale portrait and human figure paintings.
The stunning mural, is dedicated to Ira Aldridge, who was an activist in the move to abolish slavery.
Over 20ft tall, it is particularly poignant, as Ira Aldridge became Manager of the Coventry Theatre in 1828, making him the first black person to ever run a British theatre. His performances and the plays he presented led the city to petition Parliament to abolish slavery. He was also the first black Shakespearean actor, playing principal roles including Romeo, Hamlet and Othello. Amazingly, he had achieved all this by the time he was 20 years old.
Artist Dreph, commented: "It was an honour to make a piece of work that amplifies this fascinating story. Many of the passers-by that I spoke to, did not know who he was or his connection to the city. So, it was great to be able to bring awareness to his life and achievements."
Hamish Glen, Artistic Director at Belgrade Theatre, added: "We are very proud to be involved in Coventry BID and the City of Culture Trust's 'In Paint We Trust' project, and are hugely impressed with Dreph's painting of Ira Aldridge.
"Aldridge's story of being given control of the Coventry Theatre as a very young man in 1828 was the inspiration for our radical project to "hand over the keys" to the Belgrade to the next generation of theatre-makers for UK City of Culture 2021.
"Coventry has a proud history of radicalism, activism and reinvention that we hope to celebrate, and to build on throughout the year."
Adrian Woolford, Assistant Manager at Coventry BID, commented: "It was fantastic to watch the mural come to life as Dreph worked on it over the three days he was in Coventry – even the wet weather couldn't dampen the spirits! The fact that it features Ira Aldridge and highlights his links to the city, means this piece of 'In Paint We Trust' artwork is particularly significant and is already proving to be a great talking point for people, as they've been intrigued to learn more about who he is and what he did. Throughout the installation the Street Art Strategy team were on hand to give passers-by an overview of the artwork and the artist."