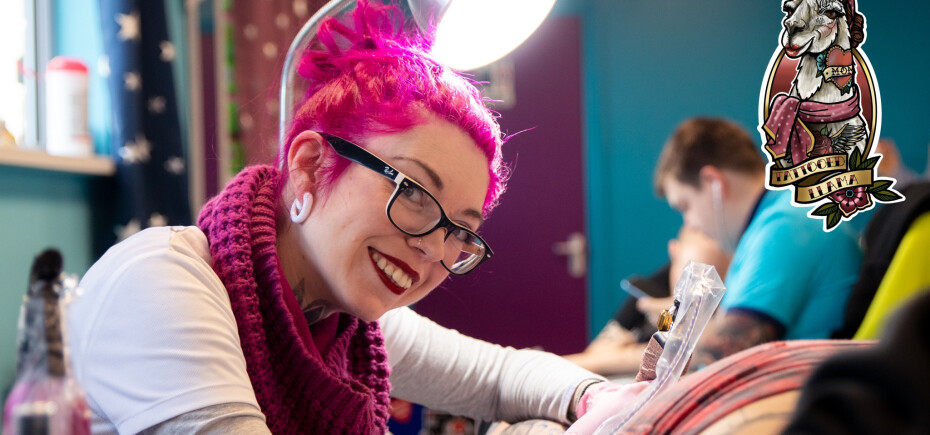 In Summary
A Coventry-based tattoo studio that launched during the pandemic is making its way through a four-month long waiting list after being given the green light to open earlier this month.
In Detail
Tattooed Llama, which is based on Lockhurst Lane on the outskirts of the city, opened its doors in June 2020, before having to temporarily close between November and early April due to Covid-19, in which time its customer base continued to grow.
Despite the company being closed for around half of its life so far, the business's leading tattoo artist, Dagmara Kokocinska - who operates from the studio as a full-time self-employed artist - had built up such a strong reputation in her field that customers were travelling from as far as Oxford and Stoke-on-Trent for tattoos.
Alongside offering tattoos and aftercare advice, the studio is developing a community focus and also sells merchandise, art work and a range of clothing.
The studio was attracting up to ten customers a day before having to shut in November, and ever since then, the business has been putting into practice the digital marketing advice that they have learned from the Coventry and Warwickshire Chamber of Commerce to target current and potential customers, ready for their re-opening date on 12 April.
The business was supported by the Chamber's start-up team through the Coventry & Warwickshire Business Support Programme, which is part funded by the European Regional Development Fund (ERDF).
Konstantin Patronov is Dagmara's business partner, and is in charge of overseeing the commercial development of the company - and said the help had proved to be invaluable.
Konstantin said: "It has been a bitter sweet experience for us so far. We were building a strong client base in the four months we were allowed to open, but since November we have had to adapt quickly to be able to survive as a business.
"Government grants have played a key role in enabling us to stabilise until we can open, but the support that was provided by the Coventry and Warwickshire Chamber of Commerce has also been vital in helping us to attract new bookings even though we have been unable to trade.
"The most important lesson that we have learned from the Chamber is that when it comes to social media, publishing quality posts over quantity achieves the best engagement.
"Tattoo artistry is very visual, so we tend to prioritise posting videos on Instagram of previous work and the colourful studio that operate from, which has the best engagement and is a powerful tool for helping us to attract future customers.
"Overall, working with the Chamber has also enabled us to focus on our longer-term growth by think outside of the box when it comes to promoting our business.
"The six tattoo artists that work in our studio are creative professionals first and foremost, and with Coventry becoming UK City of Culture in May, we are looking forward playing our role in showcasing the work that we do to people across the world.
"We also have two apprentices being mentored at our studio - as both myself and Dagmara want to be able to give people with a passion for tattoo artistry the chance to forge a career in the industry - and we remain committed to bringing through the next generation of tattoo artists."

For further information about Tattooed Llama visit www.tattooedllama.co.uk
The Chamber has a range for support for start-up businesses, whether you want to make your business idea a reality, or require advice on how to build your new businesses. For more information click here >