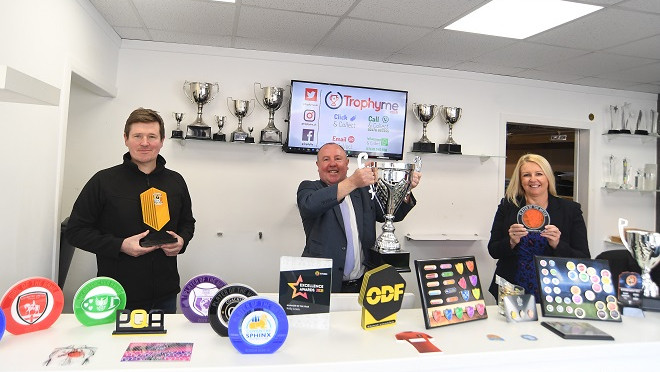 In Summary
General
|
23rd April 2021
A Coventry engraving business has invested in new machinery after securing grant funding.
In Detail
The Coventry Trophy Centre is the new owner of an £18,000 UV Printer to enable the supplier of trophies, awards and medals to bid for contracts with businesses and increase the firm's growth.
The investment decision was made by director Marc Stewart after he spoke to the Coventry and Warwickshire Local Enterprise Partnership (CWLEP) Growth Hub who put him in touch with Coventry City Council.
That led to the successful application for a grant of £5,465 towards the UV Printer, machinery, and ICT hardware and software from the Investment Fund of the Coventry and Warwickshire Business Support Programme which is part funded by the European Regional Development Fund (ERDF).
Marc Stewart said: "We have always been known as specialists in providing trophies, awards and medals particularly for schools and sports clubs across Coventry and Warwickshire. "During lockdown, we provided protective screens for schools and made 6,000 visors and also developed new products to build up a customer base outside the trophy industry.
"We have so many machines now that can work together to create bespoke items. The Growth Hub has been really helpful because I would never have considered applying for a grant.
"Covid gave me the time to discuss the future of the business with Justine from the Growth Hub and through her, I have made new contacts in the business community and applied for a grant for the UV Printer.
"It all seemed achievable, and everyone involved in the process was helpful and we wouldn't have been able to afford the machine without the grant."