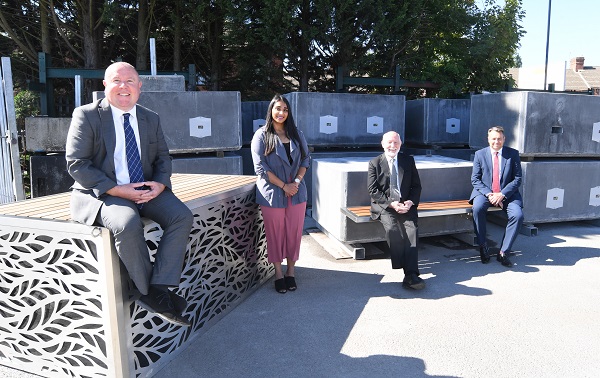 In Summary
General
|
17th September 2020
A Coventry business gearing up to celebrate its 50th anniversary in 2021 has created a new product which is already securing orders.
In Detail
GME Springs, which is based in Boston Place, Foleshill, designs and manufactures suspension springs for cars and commercial vehicles including buses, light commercial vehicles and 4x4 vehicles.
The family-owned business contacted the Coventry and Warwickshire Local Enterprise Partnership (CWLEP) Growth Hub to discuss its growth plans and account manager Justine Chadwick put sales director Marcus Gerrard in touch with Coventry City Council's Economic Development Services.
GME Springs then applied for a £10,000 grant from the Coventry & Warwickshire Business Support Programme, which is part funded by the European Regional Development Fund (ERDF), and when they were successful, they also added nearly £25,000 to buy specialist tooling.
The new equipment has led to the 15-strong business securing an order for a high-level military project and has created one new job for a production operative.
The company has also invested in energy efficiency measures including installing LED lighting throughout their premises and received an additional £4,252 of funding through the ERDF Green Business Programme which is also being delivered by Coventry City Council.
Cllr Jim O'Boyle, Cabinet Member for Jobs and Regeneration at Coventry City Council, said: "I'm pleased that we've been able to support GME Springs with this grant. They are a long-established local company and this grant has helped them to secure and create jobs which is what it's all about.
"Coventry is full of innovative small to medium size business that just need that extra bit of support to achieve their ambitions. GME Springs is a fantastic example of how our Economic Development Service and the CWLEP Growth Hub can provide the right help at the right time to allow businesses to do just that."
Marcus said a second grant has also enabled the business to create a new mezzanine to accommodate all its parts – but space was rapidly running out.
He said: "We applied for a grant from the Business Support Programme to help with a specific project our research and development team was working on which required specialist tooling.
"Getting the grant meant we could go ahead with our designs and we gained a contract with the Ministry of Defence.
"The grant has meant we have been able to complete the project quickly and has improved the efficiency of our business which is a bonus."
Justine Chadwick, account manager at the CWLEP Growth Hub, said GME Springs was in good health as it marks its 50th anniversary next year.
She said: "GME Springs has built a reputation for high-quality design and manufacturing since it was founded in 1971 and their products suit nearly all commercial vehicles.
"They have access to nearly 3,000 types of springs and over 20,000 items so creating a mezzanine has been a valuable addition to give them more capacity for storage.
"GME Springs has created a niche for itself with its specialised designs and the ability to diversify, and they are a perfect example of how the Growth Hub can help go-ahead businesses access grants and support for further expansion."

Photo (l-r): Cllr Jim O'Boyle (Coventry City Council), Kierandeep Bal (Coventry City Council), Rob Gerrard (GME Springs) and Craig Humphrey (CWLEP Growth Hub)