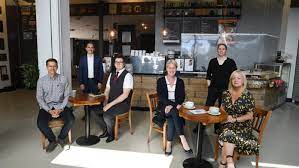 In Summary
Coventry's exciting start as UK City of Culture can help encourage more people back to the city centre, according to business leaders.
In Detail
Representatives from the Coventry and Warwickshire Chamber of Commerce paid a visit to the city centre to find out how businesses have been faring since the most recent lifting of Covid-19 restrictions.
Louise Bennett, chief executive of the Chamber, Hazel Pilling, membership manager, and Tim Squires, the vice chair of the Chamber's Coventry branch, went along to Esquires Coffee, which is connected to Coventry Transport Museum.
They met Esquires Coffee owner Steven Prime along with Dan Bennett and Lyndsay Smith, both of Coventry city centre Business Improvement District.
And, after enjoying a coffee, they headed through Broadgate – which is awash with colourful flags and banners on the back of the launch of Coventry 2021 – before arriving at the new Coventry City of Culture retail outlet in Hertford Street.
Tim said the city had been transformed over the past 12 months. He said: "It was great to be back in the city centre, having a coffee at Esquires and then seeing some of the work that has helped to improve Coventry as a place to visit.
"There has been a huge spotlight placed on Coventry and with so much media coverage around the launch of UK City of Culture it has really helped to raise the region's profile.
"We enjoyed great hospitality at Esquires where the team have worked extremely hard to ensure that they don't just meet Government guidelines but go beyond them to make sure everyone feels safe and relaxed while they are enjoying a drink and a bite to eat.
"Then, when we visited Broadgate, it felt like a wonderful continental square with so much colour and so much investment which has helped to transform the city.
"It's important for people to have confidence to return to businesses across the region and I am sure being UK City of Culture and all of the effort businesses have put in to being safe and secure will help to do that."