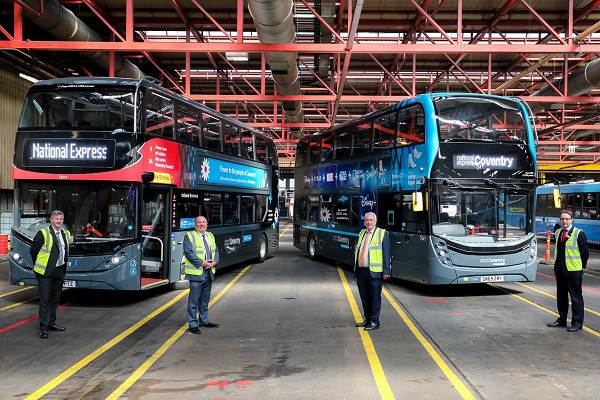 In Summary
General
|
19th March 2021
Coventry will receive £50m to fund 297 all-electric buses after the West Midlands Combined Authority Board gave their final approval at a meeting today after seeing the final business case.
In Detail
It means Coventry will be the first city in the country to host all electric buses. The target date is by 2025.
The city bid highlighted how the scheme could help solve poor air quality.
The funding from the Department for Transport aims to support improvements to air quality, lower greenhouse gases, and reduce the costs of running buses. The electric buses will also provide a more comfortable passenger experience which will help to boost the number of people using buses to travel around the city. Highways officers believe it will save around 55 tonnes of Nitrogen Dioxide every year.
Midlands (TfWM), which is part of the West Midlands Combined Authority (WMCA) and the work will start next month.
As well as funding for new vehicles, the grant will also cover investment in wider infrastructure such as charging points and upgrades to the electric grid.
The £50m will be supported by a further £78m of investment from local bus operators into the new electric buses, depot charging facilities and associated power upgrades.
Councillor Jim O'Boyle, Cabinet Member for Jobs and Regeneration at Coventry City Council, said: "We have finally got this over the line after we were able to convince the government that this city is the ideal location. We persuaded the combined authority to support our bid ahead of other areas in the West Midlands and this will make a major dent in addressing air pollution. We already have a range of schemes to improve air quality and this will help exceed our targets."
"We have great working relations with bus companies in the city and these are exciting times for all of us. The hard work starts now."
The all-electric bus city programme will also give a commitment to ensure all future buses operating in the city after winter 2025 must be all electric.
Coventry has one of the largest networks of electric vehicle charge points in any city outside London, and the investment in buses will complement other schemes that feature and promote electric vehicle use in Coventry such as the electrification of the Council's own fleet of vehicles and the promotion of electric taxis.