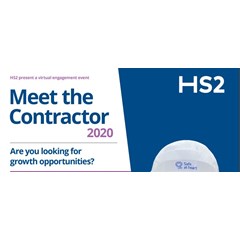 In Summary
23rd November 2020
|
09:00 to 16:30
Register to attend HS2's Meet the Contractor and engage with the wider HS2 family week commencing 23 November 2020
Add To Calendar
In Detail
Are you looking for growth opportunities?
High Speed Two (HS2) Ltd is Britain's new high speed railway and Europe's largest infrastructure project. Construction has started on Main Works Civils and Stations Works for Phase One of the railway, between Birmingham and London.

Meet the Contractor 2020 is a fully virtual event and aimed to provide relevant potential suppliers with an opportunity to meet the Tier 1 Joint Venture Contractors regarding their upcoming 2021 and 2022 procurements.
The webinars will be taking place from Monday 23 November to Wednesday 25 November to all who wish to attend to learn more about the wider HS2 project.
Potential suppliers will also have the opportunity to register their interest in a virtual one-to-one meetings with the relevant JVs (who are looking to procure their organisation's capability) on Thursday 26 November 2020. This is important to ensure that the overarching HS2 programme is outlined, to reaffirm the vision and values that are prioritised every day, and to showcase some of the great work that the HS2 family are delivering as the largest infrastructure project being delivered in Europe.
Monday 23 November
Be part of the HS2 journey Discover this incredible mega-project and the HS2 organisation behind it.
Tuesday 24 November
'Meet the Contractor' - Hear from the four main works contractors and the two station contractors. Learn about upcoming works packages, procurement requirements and how to bid.
Wednesday 25 November
The broader context - Listen to existing subcontractors' talk about their experience and tips. Find out about innovation and collaboration in the HS2 family.
Thursday 26 November
An opportunity for micro, small, medium and large-sized enterprises who are not yet part of the supply chain to prepare for the contractors' procurements coming in 2021 and beyond.
Friday 27 November
Questions and support for all - Members of the supply chain team, HS2 teams and the Joint Venture partners will be available online to answer questions.