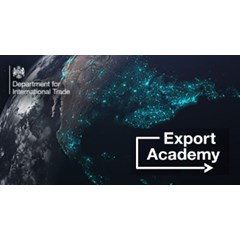 In Summary
27th September 2021
|
09:30 to 12:30
Half day workshops from the Department for International Trade's Export Academy, for businesses looking to develop their exporting potential.
Add To Calendar
In Detail
The Export Academy programme gives small and medium businesses the knowledge and expertise to export. Learning directly from experts at the Department for International Trade and a range of external specialists, this course is designed to help businesses grow their international sales in new markets overseas.
What is included in the programme?
Hosted by industry expert, John Harrison from JH Marketing Strategy, these half day workshops will encourage delegates to consider how they can develop their own individual export action plans into real life scenarios.
Both workshops are designed to be interactive and engaging, in order for businesses to reach their full potential in the exporting market.
PART 1 - 27th September 09:30-12:30
The benefits of exporting and the potential barriers
How to select the right target markets and conduct market research
An introduction to the basic procedures associated with exporting products and services
The different routes to market available and how to select the most appropriate options
PART 2 - 29th September 09:30-12:30
How to set the right price for your product or service
Understanding International Commercial terms
Customs procedures, tariffs and export controls
Managing money and getting paid
How to develop a strategic export action plan and successfully win business
Who can join?
The programme is for managers working within the export function. In order to join this programme, businesses must be based within the Midlands, East Midlands or East of England. If you would like any further information please contact your Export Adviser, call 0345 222 0159 or email poppy.surplice@mobile.trade.gov.uk.