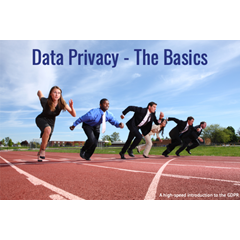 In Summary
27th May 2021
|
10:00 to 10:30
A jargon-free introduction to the who, what, where, when and why of data privacy.
Add To Calendar
In Detail

If you're newly employed, self-employed or considering setting up your own business, you're invited to a free, interactive session that will explore the basics and put some myths to bed for once and for all.
This session will help you identify what you need to do and why.
At the end of 30 minutes, you'll understand:
How to 'do the right thing' without wasting hours trying to work out what the 'right thing' is.
How you can protect data.
Why compliance is so important to your business (including the benefits).
The importance of reassuring clients and staff
Register a free place below.