Creating a powerful brand
---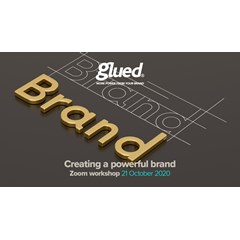 In Summary
21st October 2020
|
09:30 to 11:30
A great opportunity to use practical tools to build and develop a powerful B2B brand
Add To Calendar
In Detail
This workshop will help you understand how to develop the foundations for a powerful brand.
A powerful brand has:
Strong propositions and a grand offer
Good articulation
Consistency
Creativity
Promotion to create a following and loyalty
In this 90 minute Zoom workshop with B2B branding experts Rob Harrison and David Wilson of Glued who will cover:
Articulation: name, device, strapline, colours, tone of voice and imagery
Consistency: guidelines to support creativity
Creativity: telling a brand story
The workshop will include practical experience in breakout rooms to embed the concepts you are introduced to.
Who should attend?
This workshop is ideal for marketing managers or marketing professionals who want to refine and develop a business brand they manage or who are looking to create a new brand or start a rebranding process.
What will you learn?
You'll get a better understanding of the branding process, review what assets you have and how to make best use of them.
What will the outcome be for you?
You will have the rationale and resources to review your current brand or develop a new one. The workshop is ideal if you need to manage a brand or start to build on assets you already have. You'll leave with a set of practical tools to work on in your own time or with your team to develop your own powerful brand.
The cost:
£75 (including VAT) for a 90 minute interactive workshop and interactive PDF workbook for you to keep.
£99 (including VAT) for above PLUS a 1 hour consultation to develop your proposition following on from the workshop.
Price
This event costs £75.00 + VAT per delegate